Drying hydrangeas with silica gel is a process that results in breathtaking colors and blooms that look so natural you will have the urge to water them.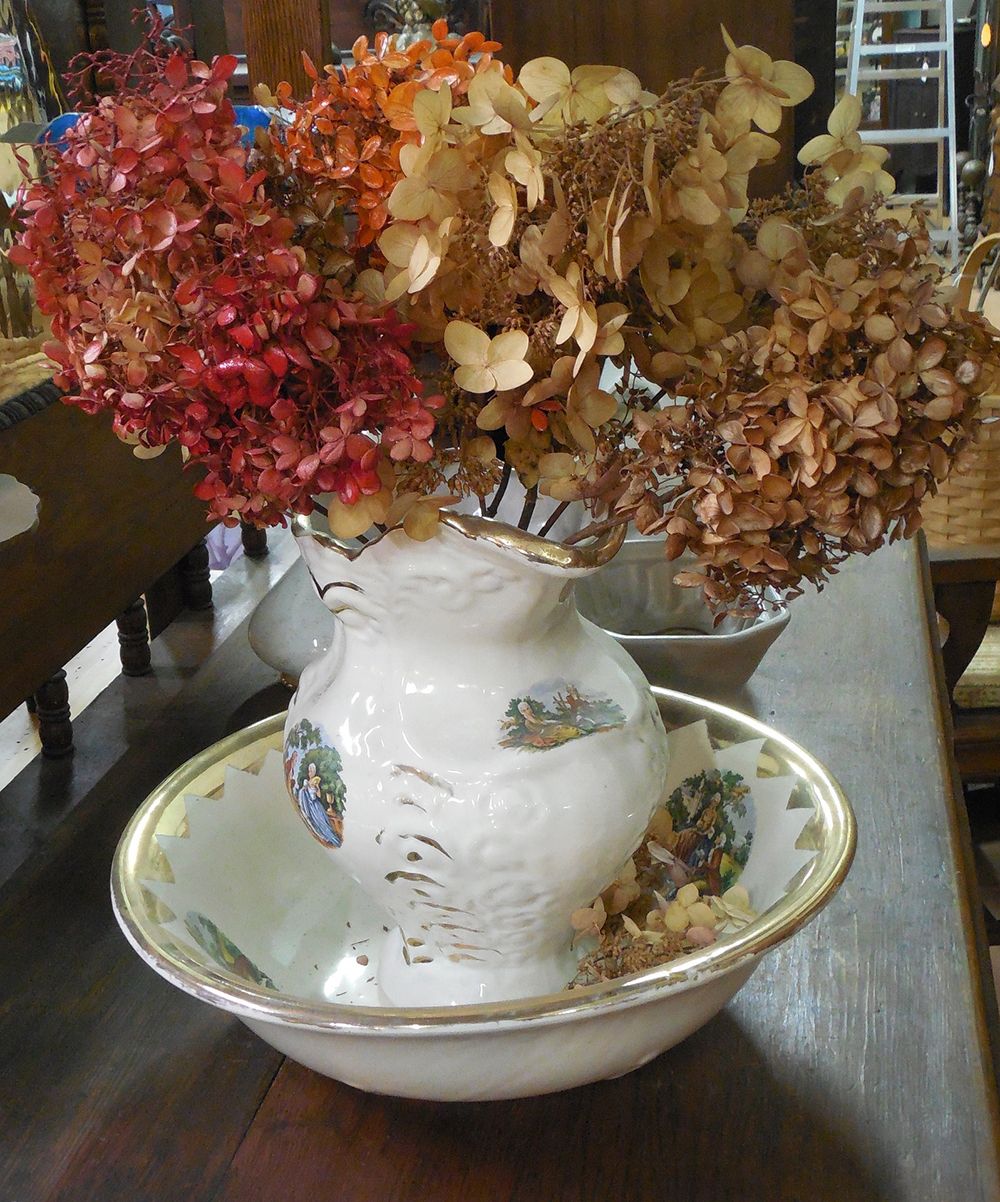 You may wish to read about drying hydrangeas naturally if you want to dry hydrangeas without the fuss.
Silica gel is not a gel at all. It looks like white sand with blue crystals. One can purchase canisters of Silica Gel Flower Drying Crystals easily online.
The method of drying with silica is rather expensive, time consuming and absolutely gorgeous. (See method below for a less expensive alternative).
If you need enough dried hydrangeas for an arrangement or a wreath, dry about twice as many as you think you will need. I say this not because some of the blooms will dry poorly, but because one can never believe how many it will take to make a nice, full arrangement. Also, to fill out the design, consider including small, naturally dried hydrangeas in with the silica dried hydrangeas.
Steps For Drying Hydrangeas With Silica Gel
It is a relatively simple process except for one thing. The flower head must be "suspended" in the silica. This means that it cannot touch the sides or bottom of the container. If it does, the bloom will have an unnatural shape.
This is why it is important to hold the (up-side-down) flower away from the bottom of the container until one has sifted enough silica over the flower to hold it in place before continuing to cover the flowerhead (see illustration 4a-4c on next page).As one sifts the silica OVER the flower the silica will fall to the bottom and secure the head, keeping it from touching the bottom of the container.
The method of drying hydrangeas with silica gel will result in vivid colors and an amazingly natural appearance. While this process is very simple, it must be pursued over a number of weeks to obtain enough dried flower heads to make an arrangement.
1. Use plastic Tupperware-type containers that are large enough to hold flowers without crushing them and a cup for sifting the silica over the bloom.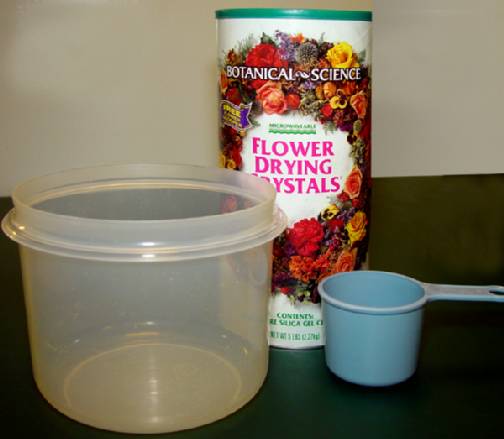 2. Cut fresh, recently opened hydrangeas from the shrub on the morning of the day they are to be put into the silica. Petals should be dry.
3. Cut stems very short so they will fit in containers. A few leaves may be left on or all can be removed.
4. Place hydrangea bloom in the container, up-side-down, on a thin layer of silica gel (stem facing up). Hold the flower above the layer of silica (4a) and gradually sift silica around the head (picture shows hand holding flower too far above layer of silica) (4b). When about an inch of silica is holding the flower in place, you can release the bloom (4c).
4A)
4B)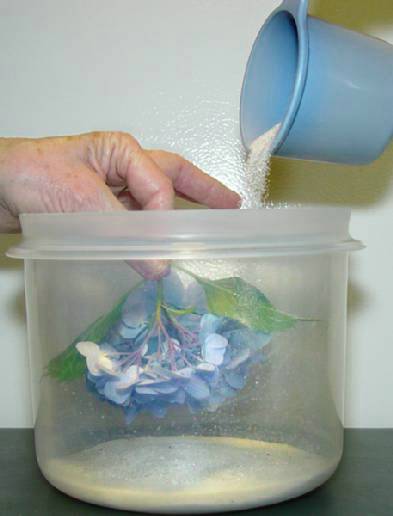 4C)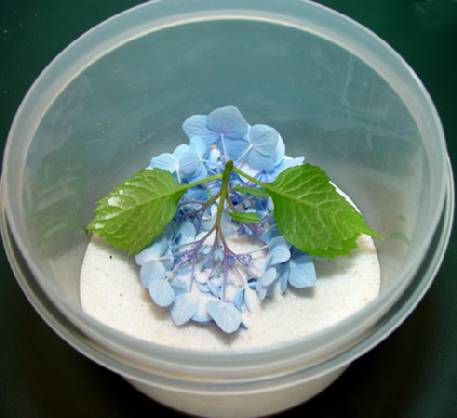 5. Work the silica into the center of the bloom and under all petals (5a). When the first bloom is covered (5b) (including the stem), if there is more room in the container, continue to layer whole or parts of flower heads with silica gel to within a ½ of container lid. Do not force them to fit in the container, or they will be unnaturally shaped.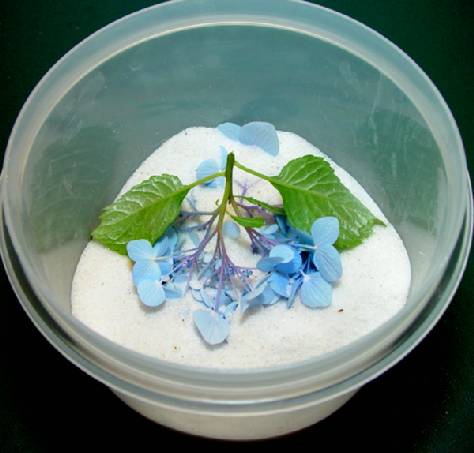 TIP: While sifting silica over the bloom, pay special attention to filling the edges of the container so that the silica will sift under the petals. Also, when the bloom is about half covered, gently knock the container to settle the silica around the petals.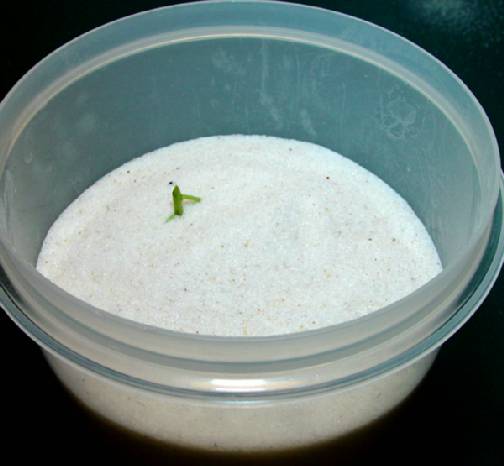 6. Secure a lid on the container and label it with the date.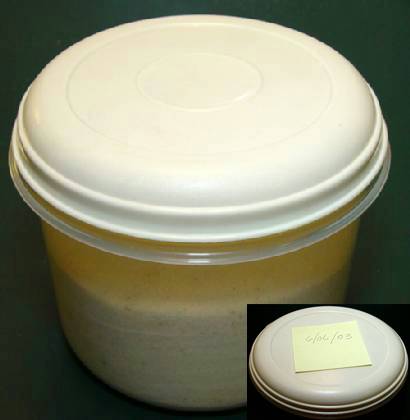 7. Four days later pour contents very slowly onto a newspaper and pluck out the dry hydrangeas.
8. Gently tap them clean and place loosely in plastic bags for storage until ready for use or lengthen stems and place in a vase (Standing in a vase keeps dried blooms from getting mashed in a plastic bag).
9. Do not leave hydrangeas in silica for more than four days, or they will be too brittle (unless silica is more than 2-3 years old).
10. To lengthen stems that have been cut short, tape a long dry stem (that may have been cut from a dead branch) to the hydrangea's stems with florist tape.
11. I find that spraying anything on the blooms after they are dry diminishes their natural beauty. I don't have luck using hair spray or clear spray paint to "preserve" them. After all the work of drying them, be sure to test on a small bloom any spray you may be tempted to use.
This page contains affiliate links to products on Amazon. We may receive a commission for purchases made through these links.