---
Why shop and purchase Hydrangeas from Plant Addicts?
Our hydrangeas are of the highest quality and grown with great care. All of our hydrangeas our picked straight off the nursery grounds, packaged up and shipped directly to your door. This means your future hydrangea has always been handled by professionally trained plant lovers. Buy hydrangeas online today and know with confidence that you will be receiving a quality plant at a great price!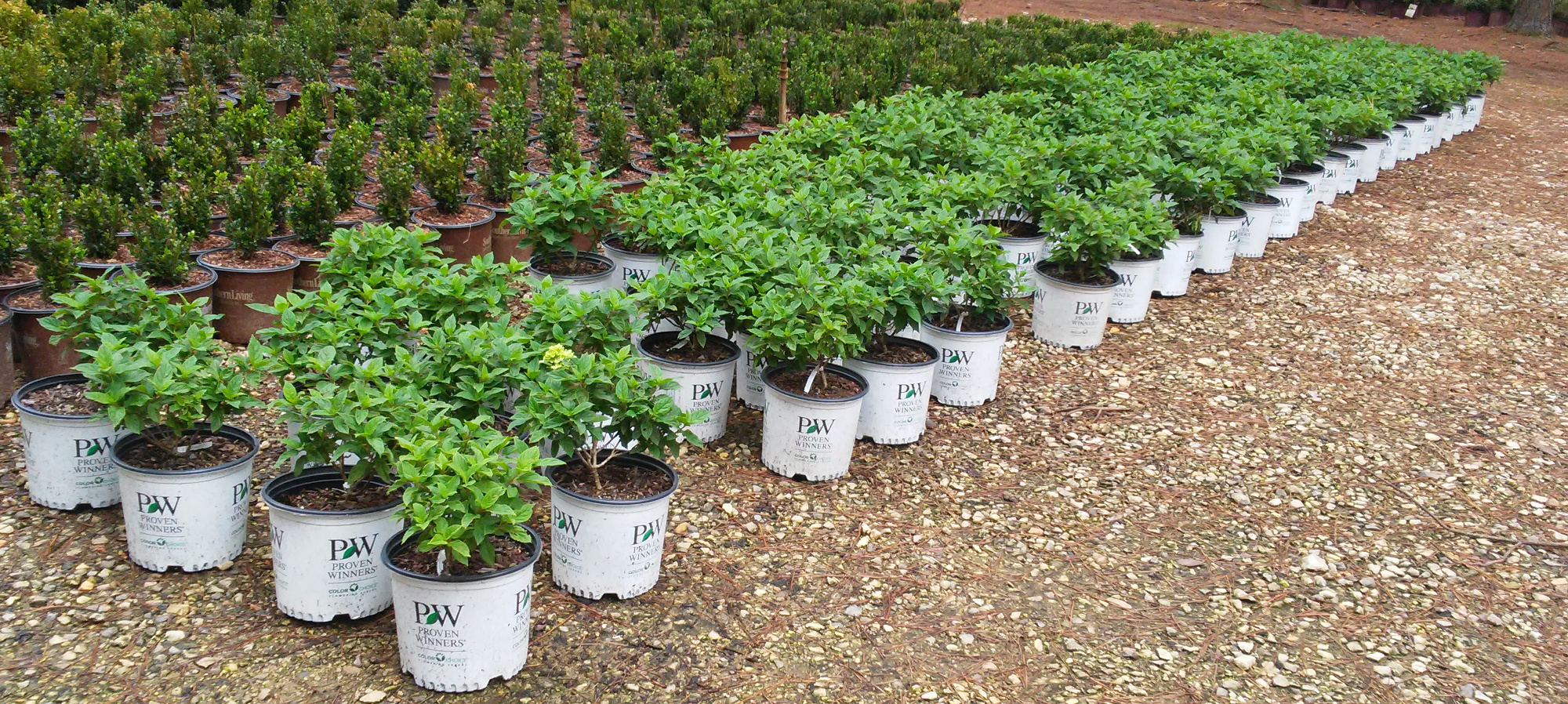 WHICH HYDRANGEAS WILL BLOOM BEST IN MY AREA?
Although it is difficult to give specific zones for growing each kind of hydrangea, I will give general guidelines for the four most commonly grown types. In the past few years, a few "everblooming" hydrangeas have been discovered/developed. These mophead hydrangeas will bloom much further north than ever before, and they bloom more than once during the summer, even in the south. The most famous one is 'Endless Summer'. 'Blushing Bride' is also an everbloomer and is an excellent hydrangea for all climates. The Oakleaf, PeeGee, and 'Annabelle' hydrangeas are easy to site because they will grow in a wide variety of climates. To understand which hydrangeas will grow in your area, it is important to know the PLANTING ZONE in which you are gardening. Visit the Plant Hardiness Zone Map to find out the zone for any area of the United States. Just enter your zip code to the left of the map.
HYDRANGEA MACROPHYLLA (MOPHEADS AND LACECAPS)
This hydrangea is most easily grown in zone 8. It is said to grow through zone 5b with protection. The zone you garden in is not the only factor to be considered. Some hydrangeas will do fine in colder areas as long as the winter is not too mild. The condition hydrangeas are most sensitive to is being exposed to a freeze after an extended warm spell. (See Reasons Hydrangeas Won't Bloom) I receive email from people who live as far north as Michigan who grow the mophead hydrangea. But this is rare, unless one is growing 'Endless Summer' or one of the other "everbloomers." What can we conclude from this contradictory information? If you live in a colder climate, you will have to experiment with different varieties and ways of protecting them. Discuss hydrangeas with knowledgeable people in your area or go to the hydrangea forum at www.gardenweb.com. If, after some experimentation you find that this type will not bloom for you, or you don't want to go through a trial period, I suggest growing one of the other hydrangeas discussed below. They are all more cold hardy than this type and are undeniably beautiful.
HYDRANGEA QUERCIFOLIA (OAKLEAF HYDRANGEA)
This is a beautiful hydrangea that makes a dramatic show in the spring and will grow in light shade or mostly sun. It will grow unprotected in cooler areas than the above macrophylla (mopheads and lacecaps). Some authorities say it is hardy through Zone 4b/5a. One other requirement for the oakleaf is that it must have very sunny, relatively hot summers to bloom well. In addition, it does not do well in areas that stay continuously moist. Learn more about the Oakleaf hydrangea.
HYDRANGEA ARBORESCENS 'ANNABELLE'
'Annabelle' is a very cold hardy hydrangea that looks somewhat like a mophead. It is white and ages to an attractive light green color. Authorities claim that it can grow as far north as Zone 3a. 'Annabelle' should be grown more often as it is at home in both warm and cold climates. See 'Annabelle' to read about all the fine reasons for growing this lovely lady.
HYDRANGEA PANICULATA PEEGEE
All the paniculatas are very cold hardy and can be grown as far north as Zone 3a. Most of the paniculatas grow equally well in the south. However, the variety H. paniculata 'Grandiflora' does best in cooler climates. See the page on 'PeeGee and Family' for more information on this versatile hydrangea.