Posted by Maureen Farmer on Aug 4th 2019
Many gardeners grow hydrangeas in groups to create borders in their gardens or as foundation plants. Did you know that mixing hydrangeas can makes great additions to perennial borders or island gardens? Here are a few ideas for companion plants for hydrangeas including perennials, shrubs and annuals.
Hydrangeas With Perennials
Many upright hydrangeas create a shady area under their foliage. This is a great location for planting shade-loving hostas (Hosta spp.). Most gardeners grow hostas for their lovely foliage. The hydrangea leaves above will hide the pale hosta flower spikes that some gardeners remove because they find them unattractive.
Hostas are available in several shades of green ranging from blue-green to chartreuse. Many have solid colored leaves and others have white or yellow variegations running along their length. Select foliage that will compliment your hydrangea blossoms.
You can use all the same variety or a mixture of two or three varieties. Plant them in a single row in a circle or half-circle around the hydrangea base or in small groups in a triangular pattern. Pink hydrangea blossoms partner well with hostas with blueish leaves and white blooms work well with green and white variegated hosta varieties.
Hostas are also available in different heights and leaf widths. They tend to grow larger every year, so space them as directed on the label even if they seem relatively far apart at first. If you don't like the gaps, plant annuals to fill the open spots during the first year or two.
Other shade-loving plants such as ferns, astilbe, heuchera and Solomon's seal will also grow well in the shade under or near the outer edge of hydrangeas. Their more delicate leaf structure will provide a nice contrast to the broader hydrangea leaves.
Hydrangeas With Ornamental Grasses
Low maintenance ornamental grasses will be a good partner in sunnier locations. Short grasses can be used in front along the border of a hydrangea bed and taller ones can be used at the ends of a hydrangea border garden. Their texture will be a nice compliment to the larger leaves of most hydrangeas. They'll also add movement to your garden on breezy days.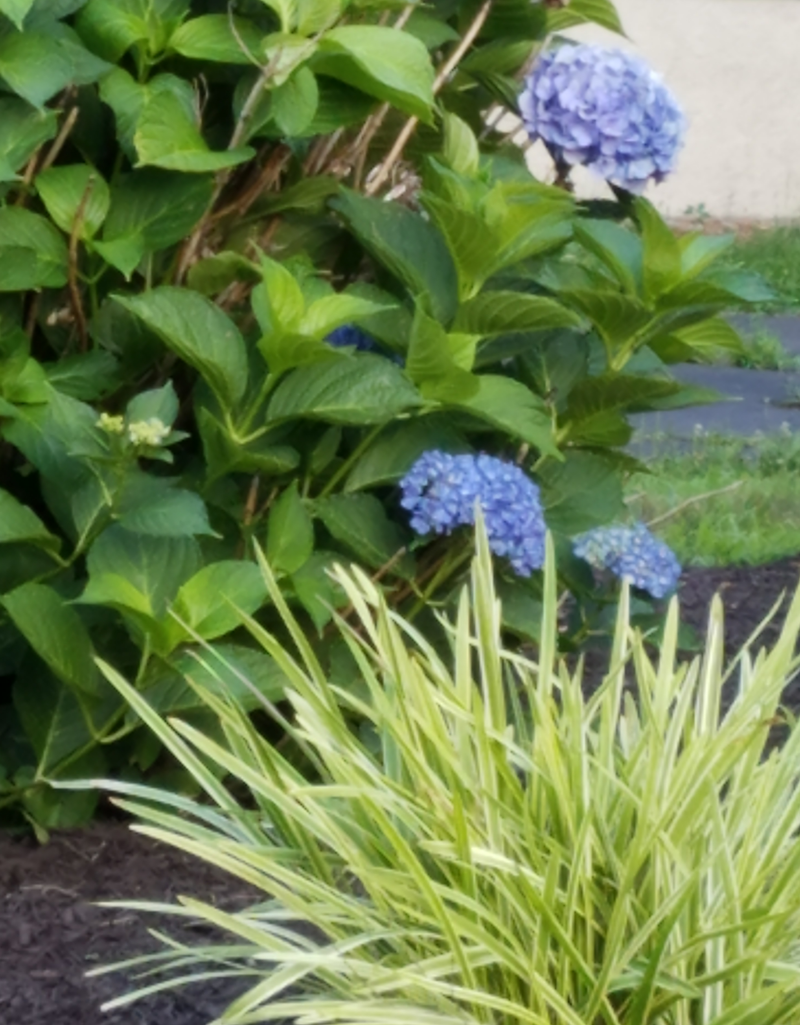 Hydrangeas With Other Shrubs
Azaleas and boxwood shrubs will look good planted in front of hydrangeas. Azaleas blossoms will provide early color. You can select your favorite blossom color since the azalea blooms will have faded before your hydrangea is flowering.
Boxwoods and evergreen varieties of azaleas will offer some color during the winter months. Boxwoods can be shaped or left in their natural form based on your preference for a more formal or natural-looking garden.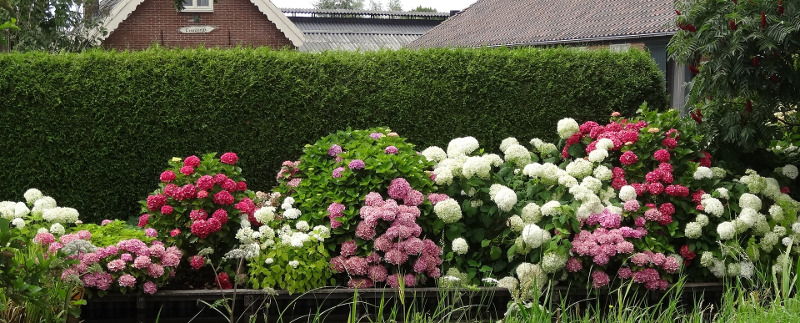 Dwarf Japanese maples are another option, especially the ones with dark foliage for contrast with green hydrangea leaves. Japanese maples typically have smaller and airier leaves than hydrangea to also provide leaf texture contrast.
Hydrangeas With Annuals
Brighten up the shady base of your hydrangeas with annual flowers and foliage plants. The nice thing about adding annuals is that you can mix it up and try different plant combinations or flower colors every year.
Good shade-tolerant options include begonia and wax begonia (Begonia x tuberhybrida) browallia (Browallia speciosa), coleus (Coleus blumei), euphorbia (Euphorbia spp.), impatien (Impatiens balsamina) and New Guinea impatien (Impatiens hawkeri). These plants are available in varieties with multiple options for blossom color and in some cases foliage color.