Posted by Teresa Odle on Dec 10, 2020
We love to repurpose old objects, especially for use in the garden. Ten years ago this Christmas, my husband, daughter and I helped gather old fence posts at my in-laws' ranch on an unseasonably warm day. The ranch in southeastern New Mexico is on land homesteaded by Tim's ancestors back in the late 1800s; they were among the first families to move to this part of the West to make a home and living.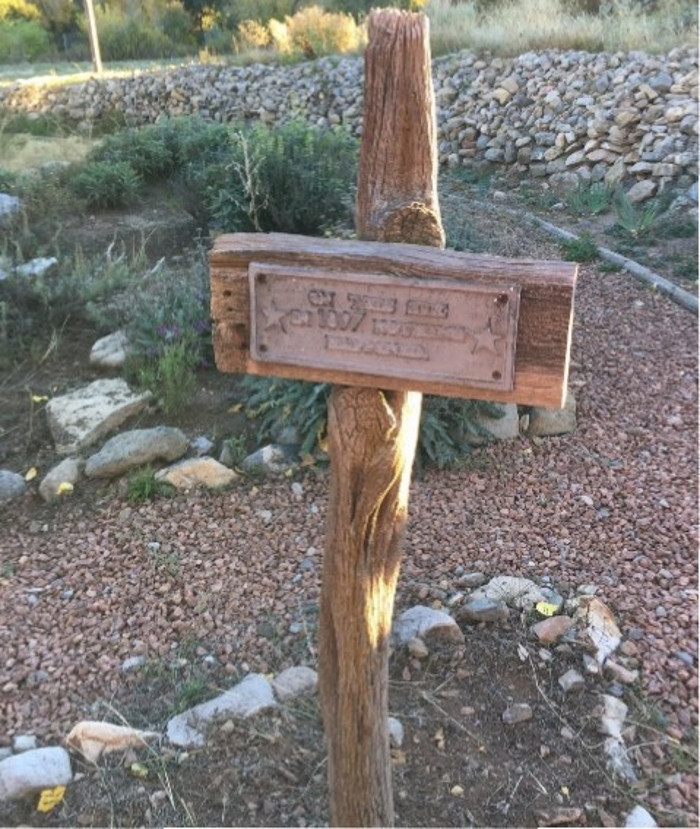 This sign is held up by an old fence post from the ranch and backed by wood from a barn there as well. It's nice to have some of an old place at a new one.
I don't think the fence posts we gathered were as old as the original homesteads, but they were certainly weathered, and my father-in-law had been gradually replacing them with metal posts. We drove his truck out to gather up the old posts and stack them to use for firewood and other projects, and he paid us with a truck bed full of posts to bring home.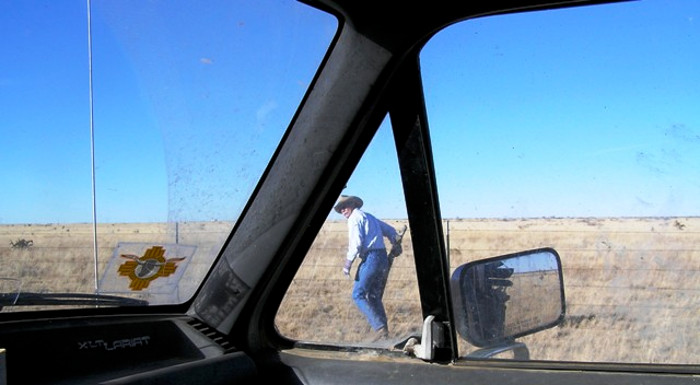 You can gather old wooden fence posts laid down as metal posts are put up in their place.
When we moved to our new home several years later, we brought any remaining posts along. They're that versatile and we're that sentimental about old posts and barn wood from the ranch. And Tim is really clever about reusing or repurposing them. Here are a few ideas:
Sign Post/Yard Art
Tim's sister appreciates their family history, along with the fact that our current place is a long way from the old homestead. When she gave Tim a sign as a gift one year that reads, "On this site in 1897 nothing much happened," we had to feature it in our rock garden. And an old fence post from the ranch was the perfect holder.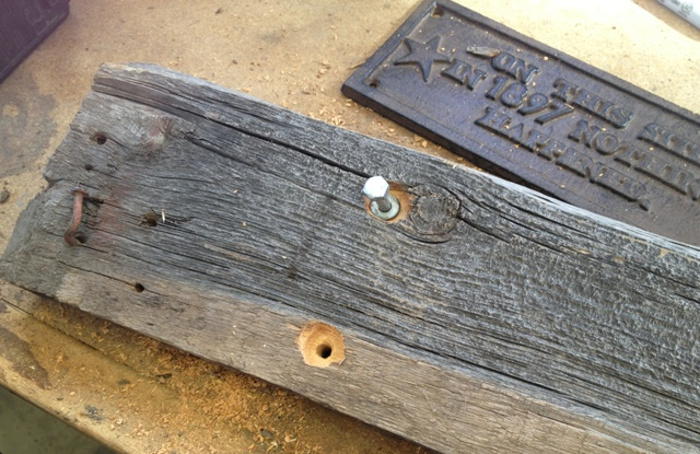 After marking the holes in the sign, Tim sunk matching ones in a piece of old barn wood.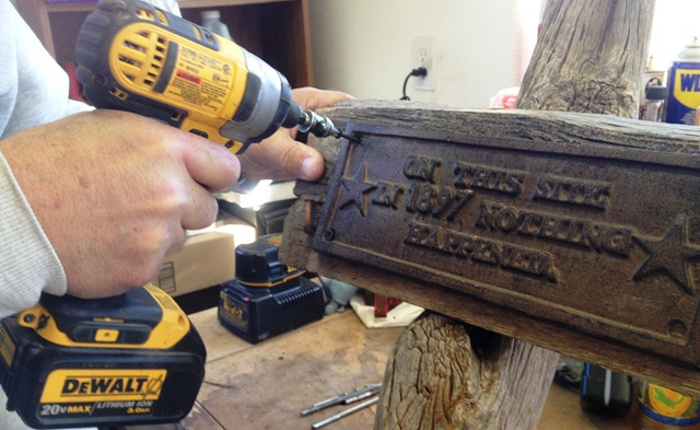 He mounted the wood on the old post right above a knot and then drilled the sign onto the wood.
Tim marked and drilled four holes in a piece of wood from an old barn door he also saved from the ranch to use as the sign's backer. He bolted the barn wood to the post before drilling screws into the sign and wood to mount the sign and hide the bolt. The top photo in this post (no pun intended) shows the fun spot in our garden where friends see the sign when they visit and the post serves as a favorite perch for birds!
Succulent Planter
Since succulents receive little water and we needed more planters to hold all of our cacti and succulents, this was a perfect use of a particularly interesting piece of fence post. Tim used the chop saw to cut off the piece he wanted and a 2-inch wooden drill bit to sink a hole in the top.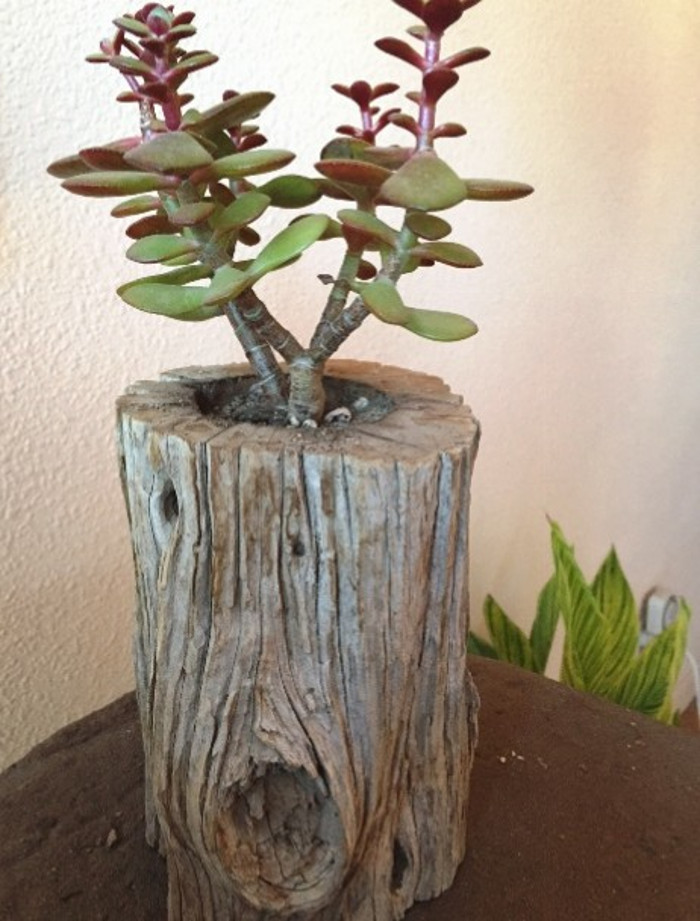 We had seen these planters made out of wooden beams, but really like having one out of an old fence post.
Deer Fencing
Why not repurpose a fence post to make…a fence? We've got metal fencing of various heights, widths and states of rust or disrepair around our place to protect young trees from deer. A couple of Western sand cherry bushes at the top of the rock garden were protected with a mish-mash of wire and Tim decided to make something that looked better.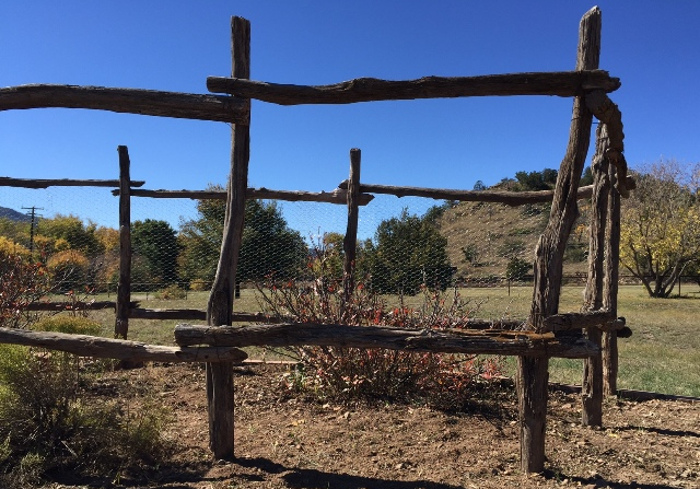 This more attractive alternative to the deer fence we had should protect our sand cherries.
We used old posts for upright and cross pieces. He worked really hard at selecting posts from our pile that would be the right height or length. Aside from digging the holes, the project was simple. We still have to run chicken wire around the entire inside of the posts because deer care little about aesthetics. But the wire really doesn't show. We'll create an easy opening on one side with bent wire so we can get to the plants.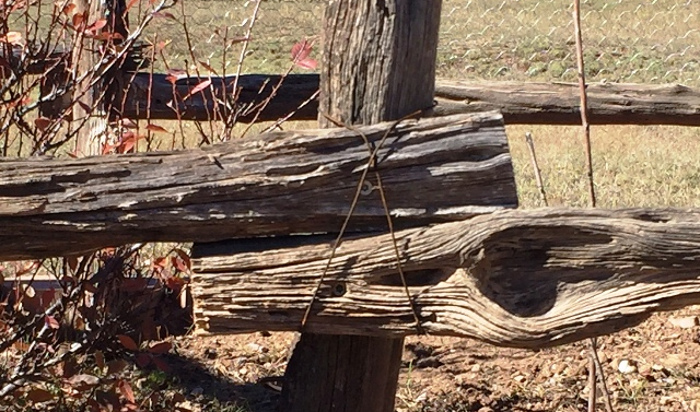 You can't have a fence made of old ranch posts and leave out the barbed wire. Plus, wrapping it around the joints reinforces the screws.
Kindling Dryer
This project took only about 30 minutes and the cost of a couple of cement blocks. Tim saw the idea on Pinterest, only the photo had 2 x 4s as the uprights to hold kindling. Why not use fence posts? He cut them to the length he wanted with a chop saw and placed them into the openings. Most of the kindling in the holder comes from post pieces or from fallen and cut branches around our place.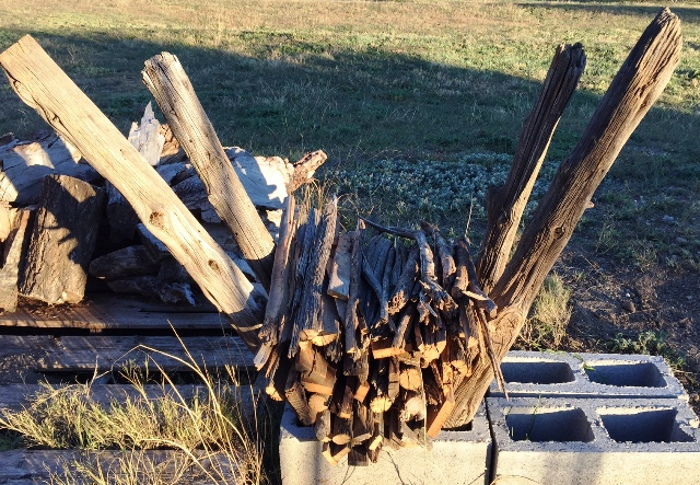 Of course, these posts are plenty dry, and they make great fuel for our wood stoves. They're easy to split for kindling or slow-burning logs. We don't mind burning up a few, knowing that we have plenty still on display around the garden for sentimental value.