Posted by Teresa Odle on Dec 10, 2020
The first line of defense is to choose plants that are hardy down to your average low winter temperature. These plants might look dead in winter, but they come back as spring warms the air and ground. We can't control the weather, however, so when exceptions to your typical low hit or you really want a plant on the border for your temperatures, you can help that prized plant make it through the winter. Here are a few tips:
Placement
Planning ahead helps. When placing a new plant in your landscape, be sure to consider its winter hardiness when you plant. Placing it in a warm microclimate, such as against a south-facing wall or fence, can keep the plant a few degrees warmer when temperatures dive on winter nights.
Mulch
Mulching over bulbs or around the roots of perennials and even trees can help the ground retain heat. You can also use raked-up leaves and sometimes straw. In addition, use rock mulch around xeric plants. The rocks absorb and reflect heat.
Mini-Greenhouses
Sadly, we can't all afford or find space for an actual greenhouse. You can buy or create mini-greenhouses around a few plants. Use 5-gallon buckets with the bottom cut out. Top them with wire for deer protection or cloth for extra warmth. Glass adds even more warmth and a cloche, French for "bell," is a glass jar that can cover individual plants. There are lots of ideas online for constructing mini-greenhouses out of plastic and wood or PVC pipe, but you'll need to remove anything that airtight as soon as the temperature warms back up following a freeze. Otherwise, condensation forms inside; the water drops refreeze and actually can damage your tender plant.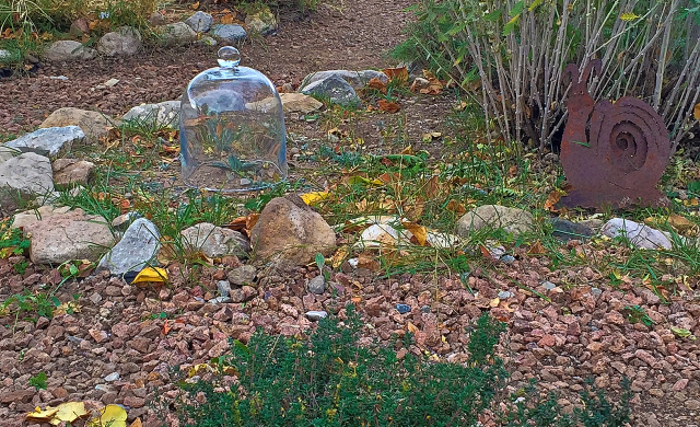 A terrarium lid makes a great cloche for a greenhouse effect on this baby agave.
Cloth
A sheet or blanket wrapped around an entire plant helps protect it from freeze on the occasional cold night. Again, this is a temporary fix. If you have an entire section of plants that need protection, it's better to rig a system with hoops or sticks and fabric row cover. If leaving the cloth on the entire winter, be sure to use a landscape fabric that allows sun and water through. I like to open these on warm, sunny days.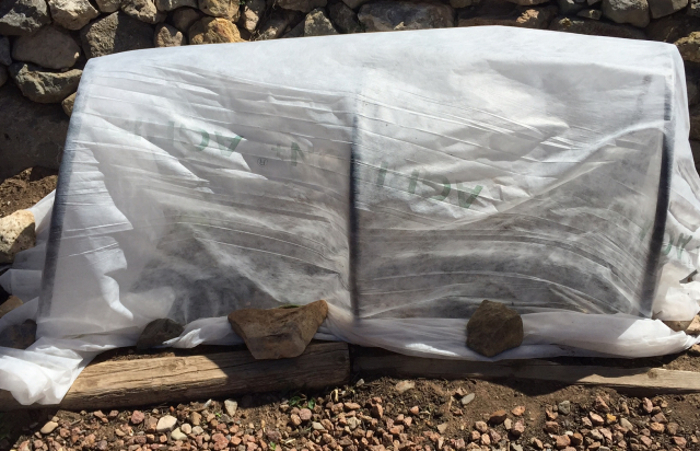 This basil cover is made from old hose and rebar and draped with row cover fabric. You can make one easily for a tender plant and lift the fabric on warm days.
Water
Plants need to head into winter in a healthy state. That includes keeping them watered (at a reduced rate) if you haven't received precipitation recently. Cold, windy air dries plants out and stresses them. There is no need to prune most perennials before winter. It's best to let them die off naturally, feeding birds with seeds. You'll trim trees while they're dormant in winter. When freeze threatens, you can water the mulch around the plant, but avoid hitting the leaves and branches. The water in the mulch helps hold heat in. We've also seen suggestions of placing used plastic bottles filled with warm water around the mulch to conduct some heat during a freeze.
Bring Plants Inside
No greenhouse? How about the house? Plants love the sun from windows (especially southern facing), and the humidity likely helps as well. Many plants to can live in the garage, where it can get chilly but hasn't gotten below freezing. If you want to invest some money, you can buy grow lights for plants that need more sun than available in your home or garage space. Spray the plants off and let them dry a bit before carrying them inside. This helps reduce the chance that bugs tag along for the ride.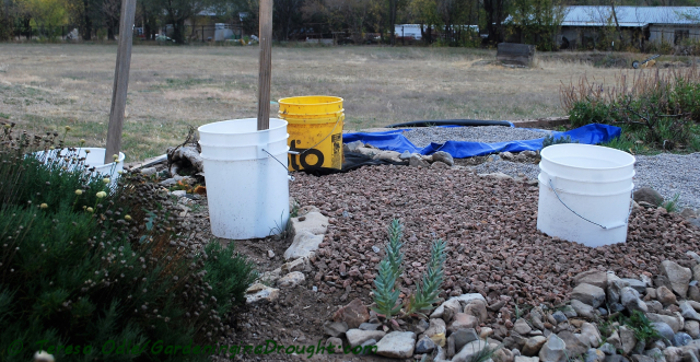 You can give plants a little boost with objects you have. Just cut the bottom out of a 5-gallon bucket. They're not attractive, but they are functional.