Posted by Teresa Odle on Dec 10, 2020
Gardening with raised beds is great for several reasons. Growing carrots in raised beds are no exception.The benefits include:
Warmer soil temperatures for a short season.
Flexibility in design and crop rotation.
Ability to control and amend soil for better weed management.
Shorter distance to bend over for aging backs.
And tops on the list, as always – critters, especially gophers.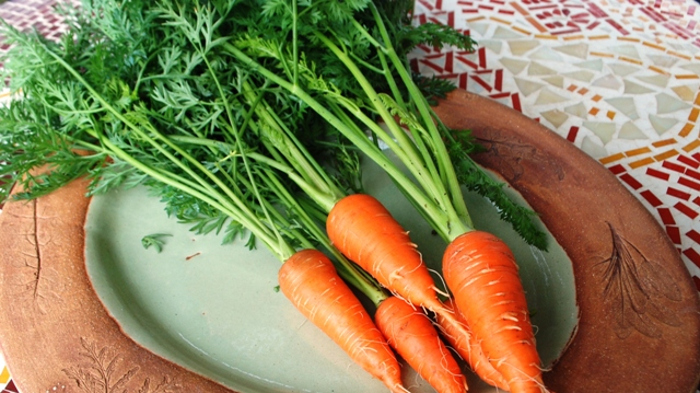 Fresh carrots from your garden taste much sweeter than any from a store. We grew these in a galvanized livestock trough.
Ultimately, improved soil management and weed control can lead to water conservation, though sometimes containers dry out more quickly. Livestock troughs are sometimes used as beds. For this project we decided to start with a 2 x 4 trough from Tractor Supply Co. for our first attempt. We wanted more carrots and for a longer season. Considering that carrots are root vegetables, with the "fruit" growing down into the ground rather than above, this seemed like the perfect choice for a container with a metal barrier between the crop and the critter with the giant fangs.
Prepping the Trough
Carrots also prefer stone-free soil. So filling a trough with compost and soil mix will work best. But first, we had to prep the trough. It really was so much easier than building a raised bed – and we doubt the cost was much more, especially for the 2-foot height the troughs give you. Drainage is essential, so we drilled about a dozen holes in the bottom using a one-half inch metal drill bit. This was an easier step than we had anticipated. Please be careful when drilling the holes to not hurt yourself!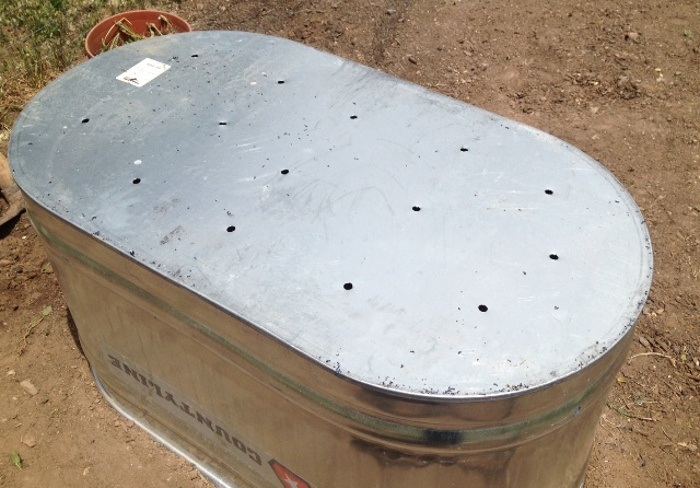 Every container needs a method for drainage, even a large one. It was easy to drill holes in the trough, but leave it mostly intact.
It takes a lot more soil than you would think to fill a container that large, and we didn't want to use stone-filled soil near the crop. So we started with recycled plastic bottles on the bottom. They'll allow water to drain down. We also laid some gravel under the trough to promote drainage and help level it before filling. Next, we used some of the soil from around the house. But in the top one-third to one-half, we added organic potting soil and compost to create a really rich and well-draining environment for the carrots. It took at least six big bags.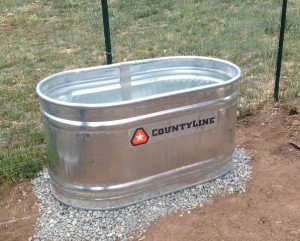 We had some extra driveway gravel to throw under the trough for drainage and leveling.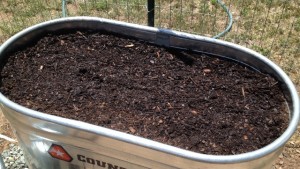 We used a rich organic soil mix for the carrots.
Using a Trough For Succession Planting
To have carrots throughout the season, I started rows in succession. I didn't have a very high germination rate at first, but I believe that was low temperatures. Plus, carrots notoriously germinate inconsistently, not necessarily in neat rows (we found one from last year outside our garden fence this spring). Still, I covered the trough with a layer of white row cloth and a few clamps, just to make sure the birds were not to blame (I didn't count on flying critters).
We now have several rows of carrots growing at various stages, and they are delicious! Carrots can take light frost, so I plan to add more seeds before the soil cools and get them going, then cover the trough with a warmer fabric.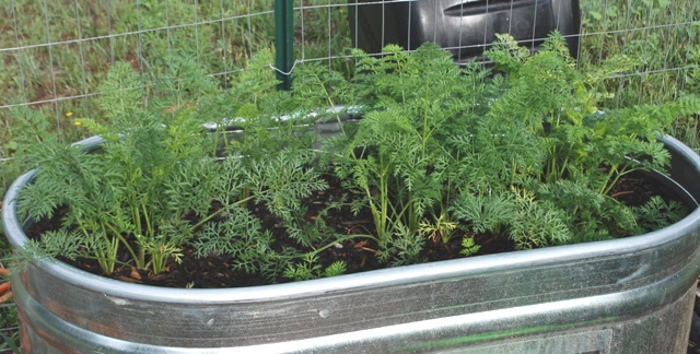 The center row is ready to harvest and we have carrots in varying degrees of growth.
We're happy with the trough. The only potential advantage we might be wrong about is mobility. Even with plastic filling the bottom, it's pretty darn heavy. But we'll see what happens during fall clean-up. I don't mind the look at all for our place, which has an agricultural feel; the garden backs up to a neighbor's horse pen. But I've seen the troughs painted and placed in front yards as raised flower beds.
When I was giving zucchini and carrots to our neighbor the other day, she said not to buy more, because they have several old troughs we can clean up and use. That would be perfect; then we can place them throughout the garden and rotate crops between them each year.