Posted by Martha Swiss on Jul 11, 2019
Add a few of these shady characters to your garden then sit back and enjoy. Not only will they make your yard more beautiful, you'll enjoy it more with less work. Just remember that few plants grow in deep shade, but as long as these plants receive a couple hours of sun per day, you're good!
Low-Maintenance Shrubs
As mentioned in Low-Maintenance Plants for Full Sun, shrubs are the easy-care workhorses in the garden. Be sure to site them properly, give them enough room to reach mature size when planting, then keep them watered the first year to get them established; from that point, all they require is an annual tidying.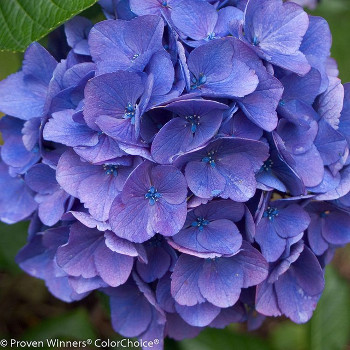 Hydrangeas are the queen of garden shrubs because who doesn't love those giant billowing blooms? The blue flowers of bigleaf and lacecap hydrangeas are the most coveted (H. macrophylla and H. serrata respectively). These are also the thirstiest hydrangeas so site them in a spot with consistently moist, rich soil. They can also be the most confounding in their reluctance to bloom in some gardens, usually in colder climates (below USDA Hardiness Zones 5 or 6) or where deer are prevalent. Where temperatures dip much below zero degrees Fahrenheit, flower buds that were formed the previous season (on the old wood of the plant) may be destroyed by frost. Deer also love to munch those bud-bearing twigs in winter. Happily, plant breeders have developed mophead and lacecap hydrangeas that bloom on old and new wood, so if last year's buds are lost to frost or Bambi, you'll still have the buds formed in the current season to enjoy. Bigleaf and lacecap hydrangeas benefit from a light spring trim to remove dead twigs, but only do this once the plant has leafed out fully in springtime so you don't accidentally snip any flower buds from last year. If you want to skip the old wood/new wood confusion, plant the smooth hydrangeas (H. arborescens). These U.S. natives flower on new wood. Whack them back in the spring and you're set. In early summer, they bear large globes of white or pink flowers that really stand out in the garden. Oakleaf hydrangeas (H. quercifolia) also blooms on old wood, but the flower buds withstand colder temperatures so flower reliably unless Bambi has had a go—they do like the twigs in winter. Oakleaf hydrangeas add a lot of texture to the garden with their large leaves and cone-shaped flowers, which are adored by pollinators and turn from white to pink as summer progresses. The show continues into fall when the leaves turn to shades of russet and the exfoliating bark comes to the fore. The flower heads of all hydrangeas dry to shades of tan on the shrub and provide beauty throughout winter.
---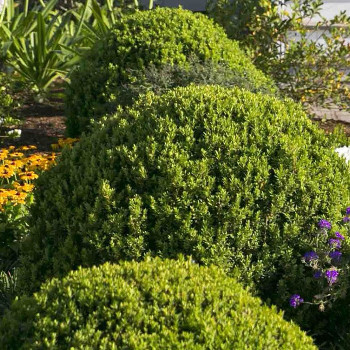 The evergreen boxwood is the 'little black dress' of the plant world—it goes with everything, fits in in sun or part shade conditions, isn't fussy about soil and isn't bothered by deer. Quite frankly, a boxwood is rarely a bad choice. There are cultivars for every garden whether you need a large shrub for screening or something smaller to complement perennials or serve as a unifying edge. There are boxwoods that are naturally globe-shaped, conical or upright, adding to their flexibility. You can ignore them completely and leave them unsheared, but if you like a formal look, go ahead and break out the clippers. If you're really an Edward Scissorhands, try some fancy topiary shapes!
---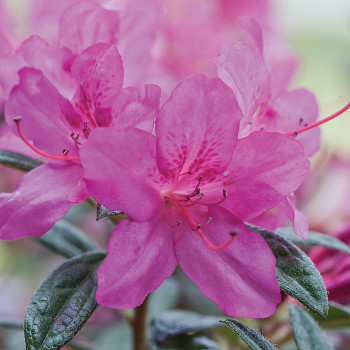 The only difficult thing about azaleas and rhododendrons is deciding which to choose! They come in lots of luscious colors that bring so much beauty to the garden in spring. When planting en masse, you can go with all one color for a lot of drama (all white can be particularly effective in the shade) or mix it up for a fun kaleidoscope effect. Pay particular attention to which variety you choose as some are early bloomers and others flower into summer, some get large while others remain compact and some can take more sun than others. In addition, all rhododendrons are evergreen while some azaleas are deciduous and others remain evergreen. There are newer varieties that tolerate colder climates or flower twice in a season. Azaleas and rhododendrons thrive in evenly moist, rich, acidic soil but are pretty adaptable once established and don't need any trimming other than to remove the occasional dead branch.
---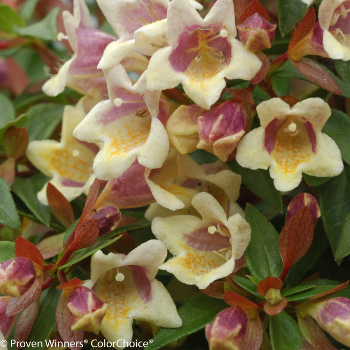 This plant-it-and-forget-it shrub (once established) is available in a range of sizes, from 2-3 feet to 5-6 feet and everything in between for USDA Hardiness Zones 4-9. Some varieties have foliage that emerges coppery-pink then turns bright green, while others have variegated foliage that adds a lot of visual appeal all through the growing season. Later in summer, small trumpet-shaped blooms emerge in white, pink, yellow or lavender, depending on variety chosen. Despite its understated nature, this deer-resistant dynamo is tough and adaptable.
---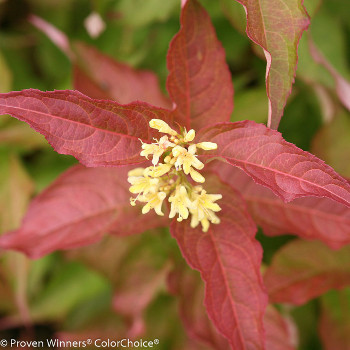 It's surprising that bush honeysuckle isn't planted more widely because it's about as easy care as it comes. At just 3-5 feet tall and wide, it's useful in any garden in USDA Hardiness Zones 4-8. The foliage remains glossy all season in shades of green, russet or maroon, depending on what variety you choose. It gets its name from the small, yellow tubular flowers that attract pollinators in late summer into fall. Deer tend to pass this one by. Truly a zero-maintenance shrub once established!
---
Low-Maintenance Perennials
Bringing color and pizzazz to shade gardens can be a challenge, but you can do it with fantastic foliage and flowering perennials that add texture, contrast and color. See some of the winners below.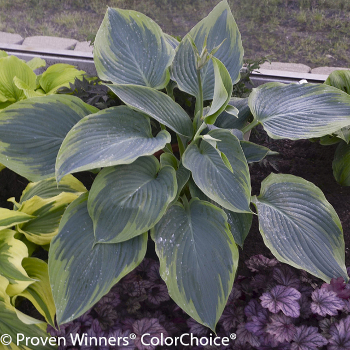 Hostas have long been considered the ultimate shade garden plant as they tolerate a range of light situations, from deep shade to partly sunny. Today, there are so many leaf colors, patterns, shapes and textures to choose from, you can make a beautiful shade garden consisting of all hostas if you're so inclined and it would be gorgeous. And they do flower! Some bear showy white trumpets and others flower in shades of lavender and blue, and many are fragrant. All are loved by pollinators. Watch their colors change in fall, then clip the foliage off when it gets killed by frost. Hostas thrive in rich moisture-retentive soils and are hardy in USDA Zones 3-9.
---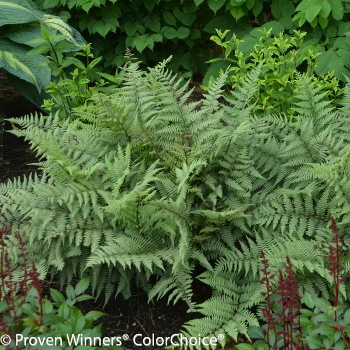 Nothing lends a refreshing woodland feel to a garden like ferns and they are very low-maintenance—just cut any dead foliage back to the crown in spring or fall. They grow in various sizes, some are cold-hardy to USDA Zone 3 or 4 and some have colorful leaves and stems. Deer and other wildlife leave them alone and the foliage is lovely when cut and used in arrangements. Most prefer rich, moist soil but the lady ferns (Athyrium) tolerate drier soil once you get them established. In fact, the lady ferns are my favorites as they come in the most colors, including the ethereal 'Ghost' fern (Athyrium 'Ghost'). 'Ghost' has upright, silvery-green, 2 to 3-foot fronds that really show up in the shade and against other dark green plants. Another adaptable fern that adds color to the shade garden is the Autumn Fern (Dryopteris erythrosora). Its new fronds start out copper-colored, then change to green and then orange as they age, especially when grown in a little sun. 'Autumn Brilliance' fern is an especially colorful selection of autumn fern. There are lots of ferns you can explore and all will enhance your shady garden or containers.
---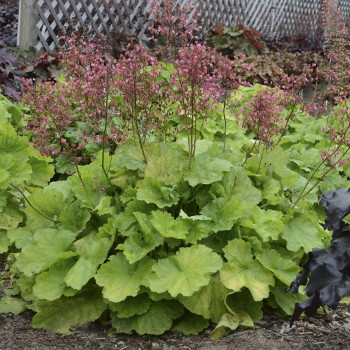 Plant breeders have gone crazy with coral bells, much to our benefit. Grown primarily for their colorful foliage, coral bells come in just about any color you can imagine—well, except blue! The low mounds of foliage are great when grown as edgers, front-of-the-border plants or massed under trees. They also work well in containers where their colorful foliage serves as a useful foil for other foliage or flowering plants. The coral bells' blooms are no slouches though; they arise on tall stems in summer and can be quite showy. Maintenance is a breeze—just cut off the dead foliage in spring. Hardy to USDA Zones 4-9. There are many colors of coral bells so don't limit yourself to just one!
---
Even if you have a small garden, you can find space to tuck a clematis vine and it will wind its way enchantingly around whatever is nearby. Clematis flower in shades of blue, purple, pink, white and yellow and are especially charming when allowed to clamber into shrubs or small trees. While clematis will grow in part sun and shade conditions, they flower best with at least a few hours of sun per day and, as the old saying goes, they like 'their feet in the shade and their heads in the sun.' Plant clematis deeply and mulch well to keep roots cool. Provide a support your clematis can climb on and enjoy the show. There are clematis for USDA Hardiness Zones 3-9 and they do best in rich, moisture-retentive soil.
---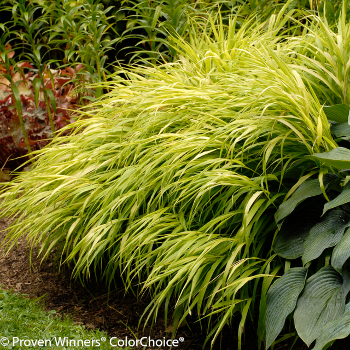 We think of grasses as being full-sun meadow plants, but there are a couple shade-lovers that elevate the gardens they grace with their interesting texture and colors. Take Japanese forest grass (Hakonechloa macra) for instance. Available in variegated and golden varieties, this grass grows a little more than a foot tall and looks like a waterfall. It's terrific along a shady path or massed under trees. Grows in USDA Hardiness Zones 5-9. Sedges (Carex spp.) form neat mounds in shades of green and gold, with some variegated varieties too. Depending on variety you select, sedges are available in heights of 1-3 feet and for USDA Hardiness Zones 5-9 or 10. These grasses are also fun to use in containers either on their own or mixed with other shade foliage plants or flowers. Like all grasses, leave them up for the winter where they add interest and shelter for birds, then cut them back in the spring.
---
Top 10 Low-Maintenance Plants for Shade
Hydrangeas
Boxwood
Azaleas & Rhododendron
Abelia
Bush Honeysuckle
Hostas
Ferns
Coral Bells
Clematis
Ornamental Grasses